---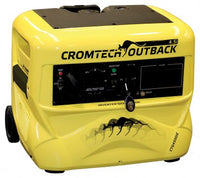 Cromtech Outback Inverter Generator 4.5kW E-start
Power sensitive equipment while on the road with Cromtech Outback inverter generator.
The Cromtech Outback Inverter Generator 4.5kw is the perfect power source for your 'home away from home' while you are on the road camping, caravanning or in a motorhome. With its pure sine wave technology, you can safely and confidently power items such as laptops, mobile phones, televisions and most household appliances.
Also known as a leisure generator, an important feature of this product is a removable multi-function power pack that is used as the generators start up battery and can be easily detached for use independently as a power bank to charge phones, use as a torch or even jump start a small vehicle. Other accessories include an additional spark plug and a dust cover to keep your new piece of equipment protected while storing it.
Some more great features of this product are the Eco Switch allowing you to minimise consumption and allow up to 12 hours* use on seven litres of fuel and it is also super quiet to run at 55 to 60 decibels. Furthermore, this model also comes with remote start or electric start making it easy to operate, even from up to 20m away.  Discover more in the standard feature drop box below. The Cromtech Outback Inverter Generator 4.5kw comes with a one year warranty. Crommelins Machinery
*Running time will vary depending on the load applied
Generator Specifications
Weight 37.7kg
Dimensions 580 x 453 x 481 mm (Carton 611 x 487 x 530 mm)
Engine Brand Cromtech LH170F
Displacement 212 cc 
Generator Type Inverter
Rated Output 3700W
Max Output 4500W
Starting System Recoil
Frequency 50Hz
DC Output 12v / 8 Amp
Rated Voltage 230V
Fuel Tank Capacity 7L
Operating Hours 4 to 12 hours 
Noise Level @ 7 m 55 dBA to 60 dBA 
Standard Generator Features
Pure sine wave technology suits sensitive instruments
Removable multi function power pack with multiple charging points
Two power outlets (230V – single phase) with IP44 weather covers
USB outlets (5V – 2AMP)
DC Outlet (12V – 8AMP)
Remote start (push button) with electric start
Digital display (volts, Hz and hours)
Four to 12 hours continuous running (depending on load)
Eco switch adjusts output as load requires, lowering noise and fuel consumption
Super quiet running at 55-60db at 7m
Low oil alarm, overload alarm, output indicator
Compact design with two wheels and a suitcase styled extendable handle
Easy access service covers
One year Cromtech domestic warranty
Ideal Generator Usage
Camping
Caravanning
Motor Homes
Fetes and Markets
Generator Sales With Our Expertise In Generator Works 

Genworks Australia Pty Ltd repair, service and install electrical power generation systems and backup diesel generators. We specialise in the installation of new or used generators as well as automatic transfer switches and electrical solutions. Genworks Australia's Generators